Highland Park

High School




Class Of 1970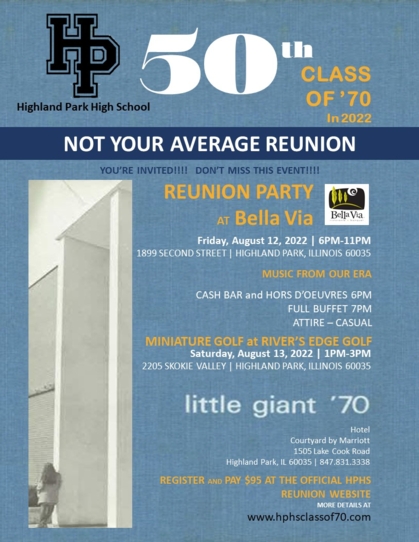 Now accepting credit card payments.
This page was updated 5-16-2022
ANNOUNCEMENTS
•

For classmates who are interested, Guy Phillips and Greg Petersen are arranging a golf outing at Highland Park's Sunset Valley Golf Course for Saturday, August 13th. Tee times begin at noon and slots for 20 players (5 foursomes) have been reserved.

Cost is $79.00 which includes green fees and cart, payable in advance.

If you want to reserve a slot, or have any questions, please contact Greg at GregP@psu.edu and I will send you payment information.

Link to golf course: https://sunsetvalleygolfclub.org

Thanks, and here's hoping for good weather!

Best,
Greg Petersen


You must be logged in to submit this survey. Please use the login box in the upper right corner.



1)
Are you interested in attending the Guy Phillips and Greg Petersen Golf outing at Sunset Valley Golf Course Saturday, August 13th.

Yes No

•

When I asked Linda Iovino how her brother Donny was, this is what she responded. I thought I would share for those of us that new him.

Kevin Schoen

Donny graduated in 1971 @ HPHS.

Sadly, Donny took his life in 2002. He was living in Mesa, Arizona with his wife Nancy, and children Lee and Jenna. Lee is 36 years old and Jenna is 34 years old. It has been 20 years this past February 6th that he is gone. He was my only brother. I think about him everyday.

Everyone was shocked when it happened. His funeral was like Elvis had died. Many attended and gave him a great send off. He is buried at St. Mary's Cemetery in Lake Forest with our Mom (83 years old - February 22, 2000) and Dad (90 years old - October 8m 2008). We are only 4 girls left. Regina in Corvallis, Oregon. Richetta and I live in our parents home in Highland Park on Green Bay Road. Our sister Anita is MIA in Santa Fe, New Mexico.

I will be celebrating my 70th Birthday this July! All my family will be here including Donny's family.

Sincerely,

Linda Iovino

P.S. Wishing you the best with your family not only personally, but professionally also!

Attached are a few photos of Donny. He was only 48 years old.

Here is his obituary:

Dominic ''Donny'' Anthony Iovino, age 48, died February 6, at his home in Mesa, Arizona, formerly of Highland Park, beloved husband of Nancy, nee Norman; loving father of Lee and Jenna; loving son of Neil and the late Laura; loving brother of Richetta, Linda, Anita and Regina; loved uncle, nephew, cousin and friend to many. Visitation 2 p.m. until 8 p.m. Sunday February 10, at Kelley & Spalding Funeral Home, 1787 Deerfield Rd. Highland Park IL. Funeral mass will be held at 10 a.m., at The Immaculate Conception Church, 770 Deerfield Rd., Highland Park, on Monday February 11. Interment St. Mary's Cemetery Lake Forest IL. In lieu of flowers, memorials may be made to the Lee & Jenna Iovina Trust Fund c/o Bank of Highland Park, 1835 1st Street, Highland Park IL. 60035. For funeral info or directions please call 847-831-4260 or kelleyspaldingfuneralhome.com.

Published by Chicago Tribune from Feb. 9 to Feb. 10, 2002.